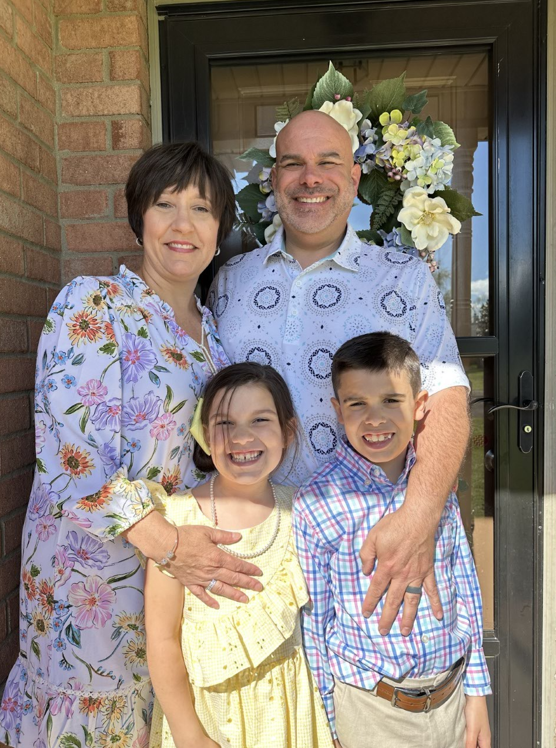 In February 2021, a local family's world turned upside down when the police knocked on the door to arrest Jim LaVoie for fraud (in relation to writing checks to cover family bills after losing his job). With his wife, Jennifer, away from the house Jim told the officer that he was home alone with his 6yo son and 4yo daughter and requested to be allowed to turn himself in once she returned home.
Later that day Jennifer drove Jim to the station thinking he would be charged and released.  However in Tennessee the charge is considered a felony so he was required to remain in custody unless bail could be secured until his trial.  Ultimately the judge sentenced him to seven months. Any of us can imagine the stress on a spouse to maintain an appearance of "normalcy" while also unraveling the webs leading Jim to make decisions that landed him in jail. He was a good husband, father, and provider. Little did Jennifer know the heart wrenching impact his decisions would have on her and their two children.
"It destroyed our family," Jennifer recalls, reflecting on the upheaval caused by Jim's incarceration. She and the kids lost their home and were forced to move to Illinois to live with family… a situation that wasn't optimal. The pain, fear, anxiety, and anger she was experiencing made every day's existence a challenge. Both children were confused, anxious, and missed their dad.
Yet, in the midst of hardship, there was hope. After transferring to the Rutherford County Correctional Work Center, Jim discovered The Family Center. He participated in our Positive Parenting… Plus! group and after the 8wks were complete, he and his family joined Nurturing Families. This program allowed Jim, Jennifer, and the children an hour 1x/wk over Zoom, invaluable time given the situation and the distance.
Jennifer vividly remembers the first time the family reconnected. "It was like Christmas the first time the kids saw him," she shared. "Yet it was hard. We all cried. Our Family coach guided us as parents to wrap ourselves around them (physically and virtually) and love them through all of their emotions.  Also I was in a small town, and there was no one there who understood or could help me. Our Family Coach was there for me as much as she was there for my family," Jennifer shares. "It was full circle. TFC surrounded us and loved and helped us through this. We grew as a husband and wife… and as a family. They gave us the tools to cope with our emotions, to better communicate, and to begin the journey toward healing."
Reflecting on his actions, Jim explains, "I did what I did because I was overextending myself, was trying to keep my family safe, and wasn't communicating with my wife. I'd also forgotten my faith. Clearly I didn't do what was best for anyone. Yet I've learned so much from the mistakes made. I realized I couldn't do it alone, and it's ok to reach out for help. I want to be a better husband, a better dad, and I want to make a positive impact in society."
Expressing their gratitude, Jennifer & Jim shared, "We couldn't have done it without The Family Center. There would've been nowhere to turn. Nowhere else helped with our family being ripped apart. It was life-changing for all of us. When there was no hope, The Family Center was always there."
The LaVoie family's story is a testament to the resilience of the human spirit and the power of support. By embracing The Family Center's help, they're rebuilding their lives and striving to create a brighter future for their children. Their journey serves as inspiration and a reminder that compassion and guidance can help families overcome even the most challenging circumstances. Jim & Jennifer are now TFC ambassadors, and Jim serves on our Parent Leadership Council.